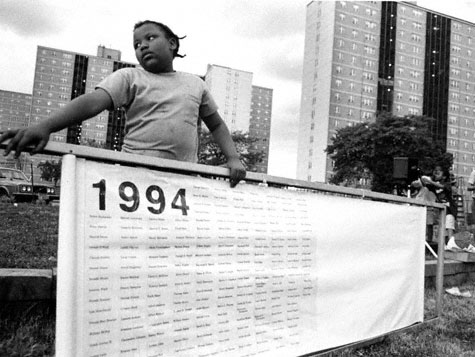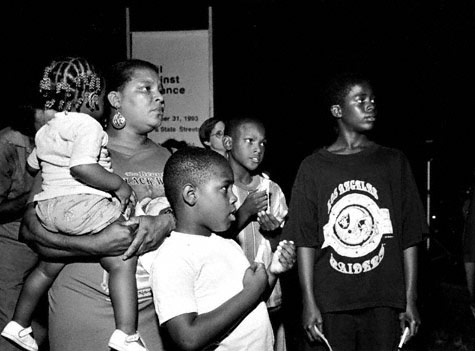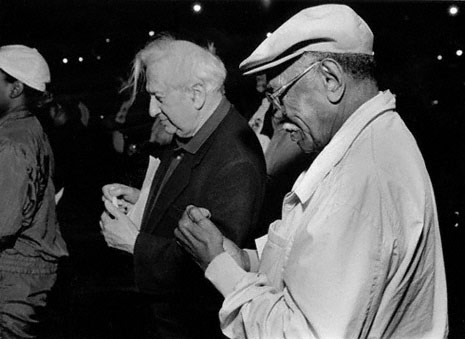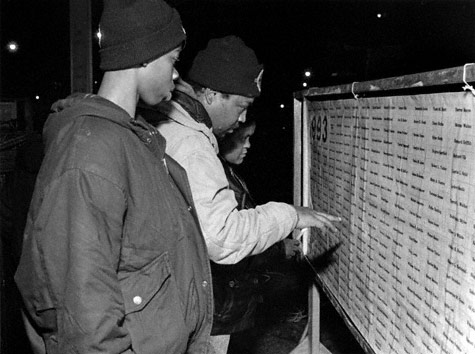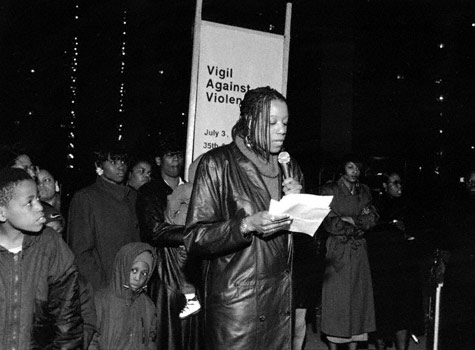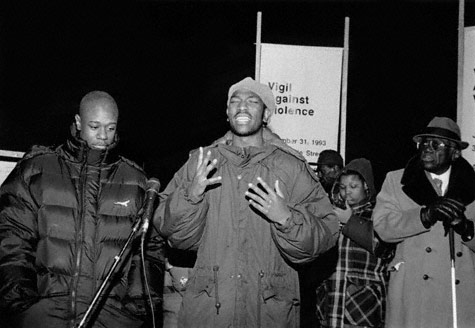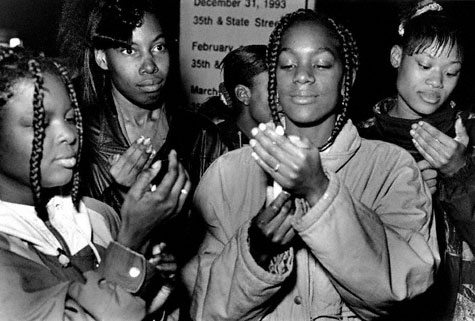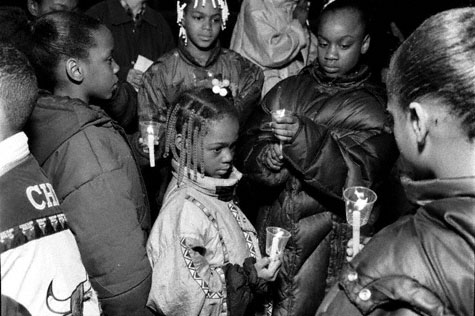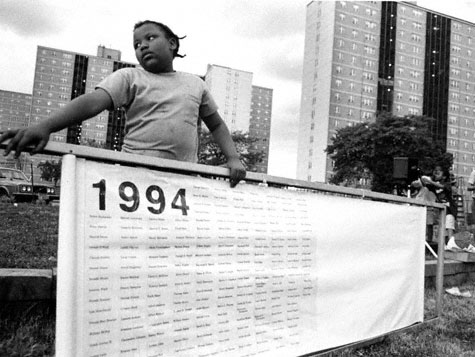 A vigil is a period of wakefulness when one would ordinarily be asleep. We have gathered here today to help one another—and our society—to wake up. To wake up to levels of violence that are intolerable yet are tolerated. To wake up to the ways violence and fear poison our relations, corrupt our institutions, and diminish our lives. To wake up to the truth that the carnage on our streets is not a local phenomenon but a product of the larger society—of unjust social and economic patterns in which we are all implicated to the extent we do not actively resist them.
Rev. Susan Johnson
Jamie Kalven
Sokoni Karanja
January 31, 1993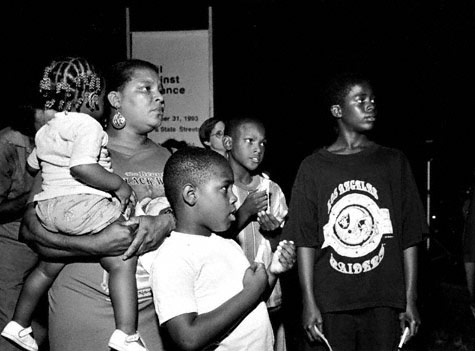 The power and promise of the vigil initiative reside, at this stage, not in our numbers but in the quality of attention—the wakefulness—we are helping each other to cultivate. This wakefulness is the opposite of the blindness—the condition of not seeing—that violence both demands and inflicts.
Violence erases. It removes from the world. It renders invisible. We collaborate in the reign of violence, when we respond, as human beings tend to, by pushing the things we most fear the farthest from our sight. And we collaborate with violence, when we deny what we know, because to acknowledge it would be to open ourselves to the demand that we act to change the world...
The violence that haunts our communities is an expression of powerlessness. Freedom is choice; it is alternatives; it is options. Violence is a narrowing of options to a single disastrous course. Imagine being so oppressed, having such a limited horizon, having so few options, that the only promise of power you could see in your life resided in a gun.
Among the powerful, there is much talk these days about violence. There is not, however, a comparable eagerness to talk about power. We condemn individual acts of violence. At the same time, we call to account the public and private institutions that contribute to the conditions of powerlessness out of which these violent acts arise.
Jamie Kalven
February 6, 1994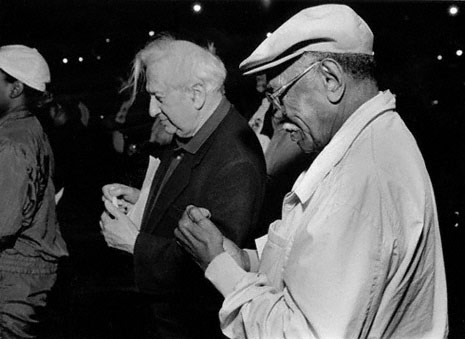 On the first of every month at dusk. . . we gather ourselves in an attitude of remembrance, steadfastness, and prayer. And we remember name by name all those who have lost their lives, whom we have lost, in violence. We remember them by name and yet we make no distinction among them: was it a man or a woman, an honor student, a gangbanger, a child? Was it a gun, a knife, domestic violence, street violence? We remember all of these as victims of violence, and every act of violence as a grave injury to the very fabric of our community.
In this vigil of remembrance we do not begin—many of us—even knowing each other, yet none of us is a stranger to violence, to terror, to despair. We cannot remain strangers, cut off from each other by the violence which threatens us. This vigil is a ritual in the reclamation of the streets, in the rebuilding of community, in the recovery of hope. The prophet Isaiah has told us that it is possible for us to be the repairers of the breech, the restorers of streets to dwell in. Let it be so. . .
As we gather tonight in an attitude of remembrance, steadfastness and prayer, we name our injury, and we name our hope and ministry. I ask each of you to join us. I know you are with us; now deepen your commitment. With the psalmist we cry, "How long, O Lord? How long?" And the answer comes back from the prophet: "Until you become healers of the breech."
Rev. Susan Johnson
September 17, 1994
All of us together must believe that we can make a difference with our lights shining brightly. We must believe in our hearts that we can make a change and work together to help the change take place. Tonight we stand together until our lights form a circle of unity working to eliminate violence in our city. Each light symbolizes the love within each of us. We must let our love be such a force that the light we burn today in memory of those individuals who have left us, gives us renewed strength to continue the journey of reclaiming our city from violence.
Marrice Coverson
February 5, 1995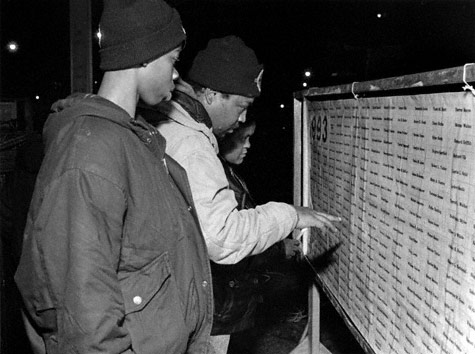 The reason I am here is that it is my people that are getting killed and my community is a wasteland. No, I did not create this situation, but I understand based on all that I have seen in this society contemporarily and historically that I must solve it. No one from the outside has either the will or the skill. Starting next month we are going to escalate the vigils to more direct action. We are going to join with other community groups and begin the process of thoroughly cleaning up our community. Each Saturday before the vigil will be devoted to this part of the rebuilding effort. We hope you all will join us. Let me say this in closing. I know cleaning lots and standing here reading names each first Sunday does not stop the violence, but it begins a process of working together on community problems and thinking about the problem of violence with focus and intensity. Ms. Rosa Parks took her first step by sitting down in the so-called "wrong place" on a bus in Alabama some forty years ago and changed the course of history. Let us continue to take these first steps toward stopping the violence. For me, it beats wringing my hands and calling for someone else to do something.
Sokoni Karanja
April 3, 1994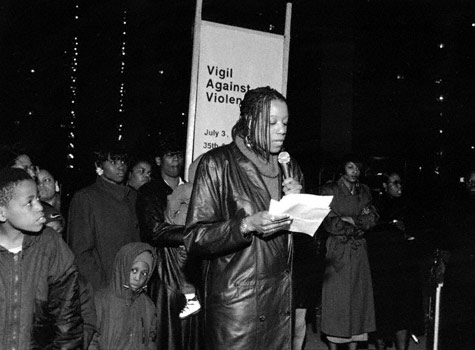 Winter turns to spring. And with the advent of spring comes a rebirth and an opportunity to sieze the power to change our lives to lives full of compassion. It is a time to touch, down through repressed and suppressed emotions, what is real and fundamental.
Today's vigil provides some of us with a starting point in this process of discovering the worth in ourselves and others. For others, tonight's vigil is a continuing communion of souls seeking an end to the turmoil and strife gripping our communities and every other place on the planet...
Anger must be replaced by purpose, hopelessness with promise and pride, rugged individualism with a collective spirit, apathy with passion, and death with life.
So like the seasons, we too have the power to change. As we read the names of those who have made their transition to a better life, let us remember that there are only two bequests we can really give our children, one is roots, the other wings.
Patricia Dowell
April 2, 1995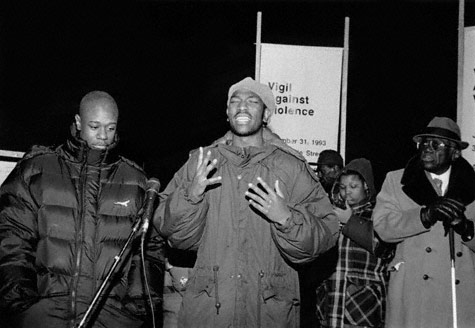 Watch yo back little youngsta, Brotha's driving around the block with AK's.
It's a Friday, and everybody dying on this block today.
Drive by shooter in a drop top black caddy.
Yellin' and screamin' from kids, Moms, and Daddies.
No need for the police, nothin' could be done about this madness.
A sad situation could not get worse but only better.
Brothas let's GET TOGETHER FOR THIS WORLD WIDE TRUCE.
Let's STOP the KILLING and VIOLENCE.
Peace to my brothas from me to U.
From "Dead + Gone"
by Credell Walls and Curtis Jackson
performed March 5, 1995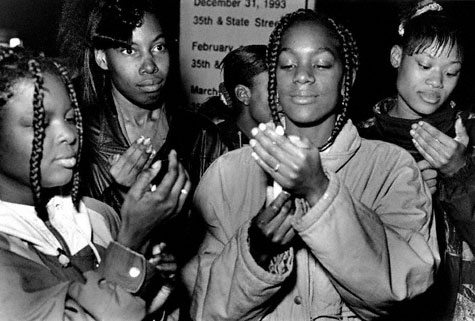 We only do what we're taught to do. Our children do not come out of their mother's wombs committing violence, committing crimes, or doing drugs. We live in a culture of violence, and few commentators write or speak about the damage done by the culture of poverty. Poverty breeds reaction. The violence of the have-nots is always in oppositiobn to a culture that shuts them out. The violence of hunger, the violence of being devalued, the violence of not being appreciated or loved, the violence of self-hatred that our children are taught each and every day...We need a culture that is children-centered, a culture where all of our children are nurtured by the arms of society, of this family, those who truly love them. It has become very clear to me, a person who has been involved in early childhood education in the last 25-30 years that they must be nutured in a loving way, in an enlightened way, each and every day. Therefore this requires a culture that generates beautiful possibilities, a culture that generates sharing, a culture of enlightenment. This culture cannot be and will not happen as long as we are circled by ignorant people talking about how ignorant other people are...So here we gather this evening to understand at one level that culture must be changed, that it must be moved to another level. Our children can't do it. We must do it. Here and now.
Haki Madhubuti
December 4, 1994